As much as I don't want to believe the Chinese "leaks" (except Rowlet's 'cause ghat damn), sometimes Gamefreak likes to make gym leaders and important trainers look similar to the pokemon they raise.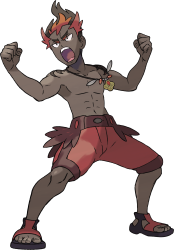 And this guy seems to be borrowing design elements from a certain leak. I think you know which one.
Thankfully he is supposed to be a Marowak trainer, and I could easily be looking at a different pokemon inspiration like Salandit's evolution for example. Or he could be designed not to be reminiscent of any pokemon at all. Here's hoping.
Other than that, he makes me feel like doing a billion crunches. Jeebus.